Just Our Pictures.com
CORNELIA ROSE

Hybrid Musk, Pemberton 1925.
The showy pink Hybrid Musk rose Cornelia is shown here growing in different locations. The Sacramento cemetery shot demonstrates its potential as a pillar rose.

Click to enlarge. Use Keyboard Arrow keys for Next and Previous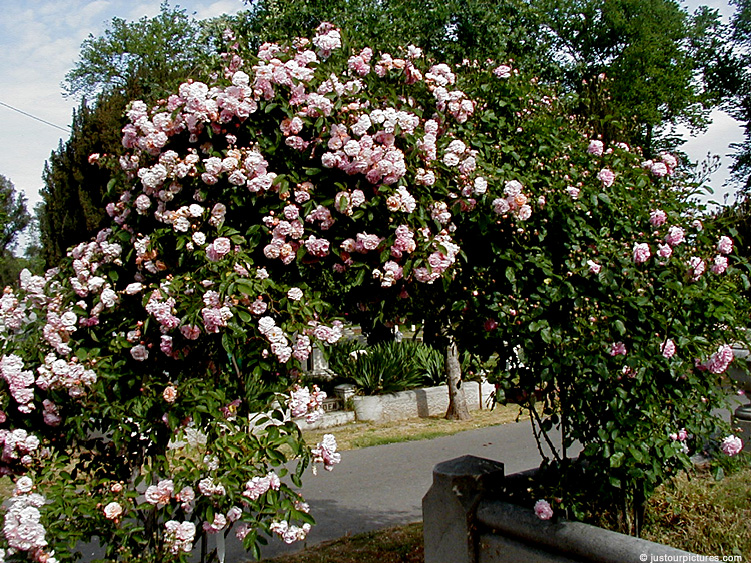 Cornelia rose bush. Sacramento Old City Cemetery. File#_P4280243. Photographer: Christine
The common 'wisdom' is that Hybrid Musks can do well in partial shade. Cornelia laughs off that total nonsense. My original plant is stunted, twiggy and nearly bloomless, in a spot where it gets only some morning sun. A second plant is in a much nicer spot and has ten times the wood, and leaves and bloom. There can be no possible argument made regarding the quality of the plant material as the second plant was started from a tip rooted branch of the first.

Note: I keep waiting for Buff Beauty to resemble the beautiful plant in the Old Sacramento Cemetery - maybe this year. Here in northern Nevada the blooms are smaller and paler but still nice.
roses home
more from the Nancy Steen
Sacramento Cemetery
more old roses
frozen roses
site index
Pink Roses
text list
flowers
Sales/Info
Contact Us

<!-125 by 125 button->


Frozen Cornelia bloom <!-125 by 125 button->

Click to enlarge. Use Keyboard Arrow keys for Next and Previous

Cornelia rose
Nancy Steen Rose Garden. AKL. NZ
File# D6077.

Cornelia rose.
Nancy Steen Rose Garden AKL. NZ.
File#_6619.

Cornelia rose.
Nancy Steen Rose Garden AKL. NZ.
File#_D2579.

Cornelia and Buff Beauty
Reno NV.
File#_D3646