What makes the rose Sally Holmes special? Christine's thoughts on this topic, illustrated with many exceptional pictures and a discussion of good light in rose photography.
While the single blooms are not especially spectacular by themselves, many things about this rose do rate as spectacular - it is a versatile, adaptable, generally continuous blooming temptress which seems to do well in a great variety of conditions.

Bred from the large Hybrid Musk Ballerina, and the quite small and not particularly easy to grow Ivory Fashion, Sally Holmes forms a large, sometimes huge plant. The first part of the magic of Sally Holmes is that it takes the larger, more attractive bloom of Ivory Fashion and the eagerness to grow of Ballerina and combines them into a vigorous, healthy, adaptable plant.
| | |
| --- | --- |
| Sally Holmes #1773 &nbsp | Sally Holmes #8298 |
One of the things, then that is so special about Sally Holmes, is how absolutely lovely the profusion of blooms are close up, whether in their more flattened, mostly white form, or in their apricot phase or in their cooler nights of fall, pink phase - the blooms so often draw the viewer in to appreciate them at close range.
| | |
| --- | --- |
| Sally Holmes #2132 &nbsp | Sally Holmes in fall#D9342 &nbsp |
The respite offered by cooler weather and by a bit of shade retains more of the lovely apricot one sees in the buds. In late fall, the rose has strong touches of pink.
| | |
| --- | --- |
| from the Sacramento cemetery &nbsp | File#3322 &nbsp |
At the same time, the plant has tremendous landscape appeal and versatility. The photo above left, taken in the Sacramento Historic Cemetery, is a stunning example of what creative gardeners can do with this rose. In the photo on the right, Sally Holmes shows its wonderful ability to complement a landscape, and to hold its own whether viewed up close or at a distance.

As disease is not an issue for me, I can't speak to that directly, but I have seen few complaints about Sally's disease susceptibility, so this also seems to be a plant which does well in a great many different locations. Accounts from Southern California tell of a plant which not only winds up among trees, but, if allowed, is practically a tree on its own.
| | |
| --- | --- |
| Sally Holmes l#8713 &nbsp | Sally Holmes#0126 &nbsp |
For a photographer, Sally Holmes is a compelling subject. The subtle pastel tones attract the eye, and the lens, and when the light is really right, closeup photos of the blooms are simply ethereal. The two photos above illustrate the effect of good light versus great. In the image on the right, the blooms have plenty of color and the composition is fine, but in the image on the left, the petals have texture and depth and the whole composition glows. It is the photographer's task to always be watching for those ephemeral moments of great light, and to race for the camera when they happen. And when the light comes right, there are few roses which play for the camera as Sally Holmes does. Sally is a dancer, a queen, a star.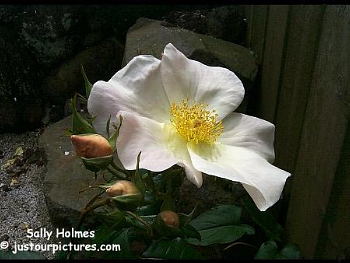 Sally Holmes #1967 &nbsp
Somehow Sally Holmes seems to have inherited the best of both of its parents, and has combined them in some nearly magical way into a plant which sets the bar high indeed. One wishes these wonderful qualities could be passed on to subsequent generations, but an almost complete lack of offspring suggest that it is not eager to put its energy into reproduction. Ah well. We will just have to be satisfied with the real thing.