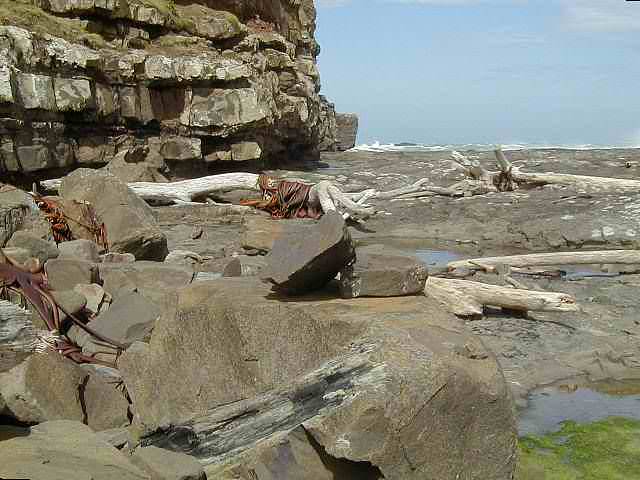 Curio Bay, rock face

We'd like to have spent more time in Fiordland - the track to Lake Marian had beckoned, and the rugged, nearly trackless enormity of the route up to the Gertrude Saddle left powerful traces deep inside, but our time was running out. It was time to head north - we had a ferry to catch in Picton in six days. So we headed south.

The coastal area along the south eastern part of the island is known for its fauna - fur seals, elephant seals, Hooker's sea lions, yellow eyed penguins, and porpoises could all be spotted at various locations in the Catlins.

We made out first long stop, after the night in Invercargill, at Curio Bay, seeking out the ancient fossil forest. In a little shop on a promontory we asked about dolphin viewing in the area. The shopkeeper pointed to the bay behind us. "That's called Porpoise Bay" she said. The black shapes we'd seen below that we'd taken for kids with swim fins were, in fact, Hector Dolphins.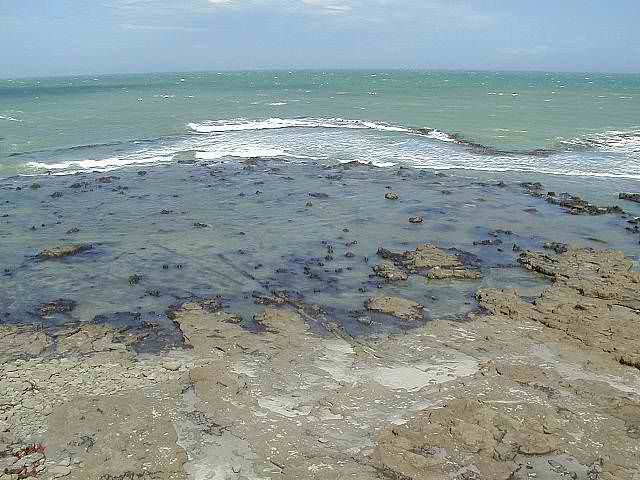 Petrified tree stumps
on the shore at Curio Bay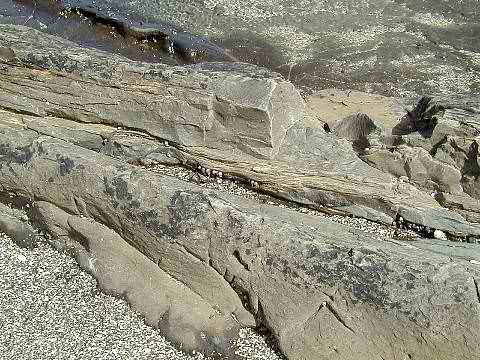 Petrified logs
Remnants of a 160 million year old forest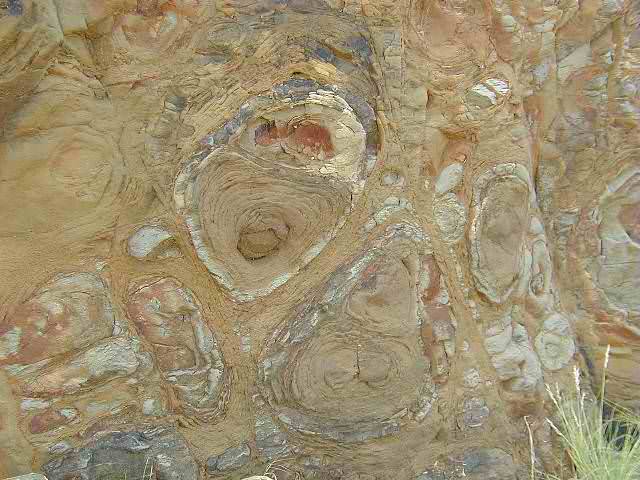 Ancient tree dump
Accumulation of logs at an ancient river bend, preserved in thick sediments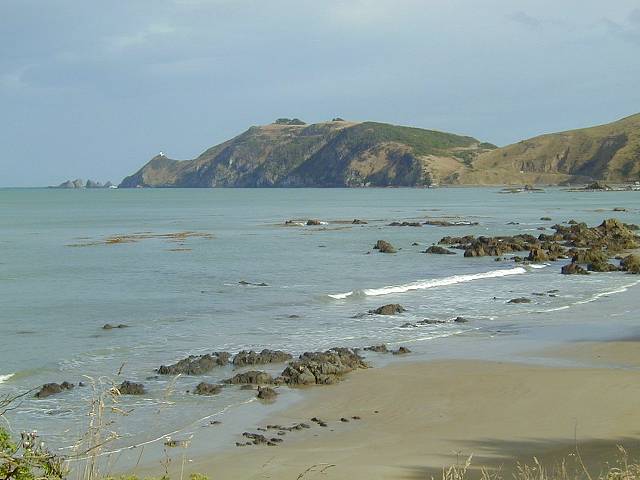 Nugget Point
The headlands at the end of the road provided an ideal spot for seeing seals, sea lions and rare yellow eyed penguins. In the rocks beyond the lighthouse (left in photo above) were sheltered pools where seal pups played evening games. From the rock notch to the right, a road curled round to a small car park, and a path down to a penguin hide - a rough structure from which viewers could wait unseen for the penguins to return from the day's feeding. Above the small beach, several penguins had nests well hidden in the hillside grasses.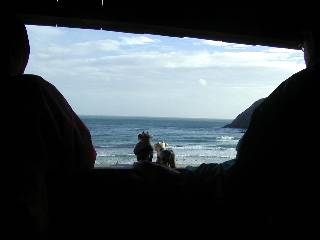 The cows play spot the penguin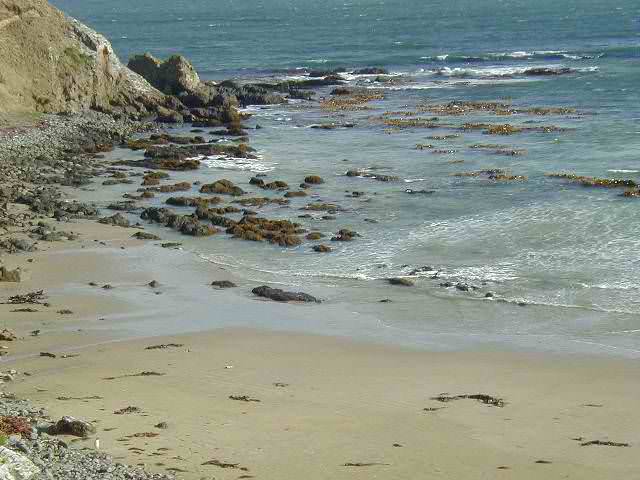 Your turn to spot the penguin.



A minibus load of ecotourists watched the waves, as their driver snuck looks at his watch. A few minutes longer they asked of him several times, and finally a shape appeared near the shore. A dark creature alternately swam in, and floated ducklike, then when nearly to shore suddenly stood, flashing silver, and waddled out of the water.

The bird shook, moved inland a step, then stood unmoving for long minutes. A step or two, another shake, a preening under a wing, another long stand. Never was there a creature which meandered more slowly to its home. The ecotourists climbed the path back to their van. The free agents stayed on into the evening hours.

After some thirty minutes the penguin finally reached the rocks at the beach edge; the progress became even more comical. She stepped first one foot, then the other, onto a rock, steadied her balance, then hopped to the next rock. Then she rested a bit, preened, looked about, and steadied herself for her next little leap. By such bits she eventually reached the hillside where she waddled a few steps, then again waited, dried and preened in the evening wind.

We saw the arrival and the gradual homeward progress of five penguins, spaced out along the course of some two and a half hours, then reluctantly climbed up the track to reach the headland for a sunset view. Binoculars brought the play of the seal pups, in the pools far below, close enough to enjoy. The camera could not reach them.




[spoiler: see lower left for penguin]




And on up the east coast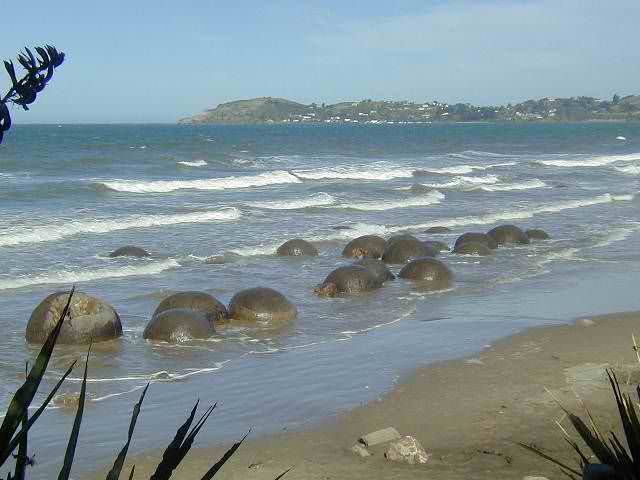 Moeraki Boulders
Mysterious giant marbles...
....concretions eroded from mudstone cliffs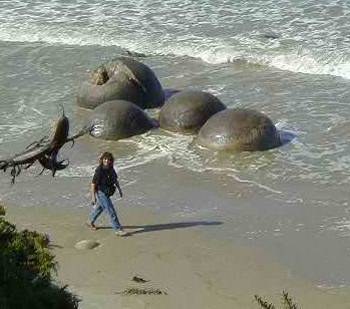 Just to keep things in perspective :)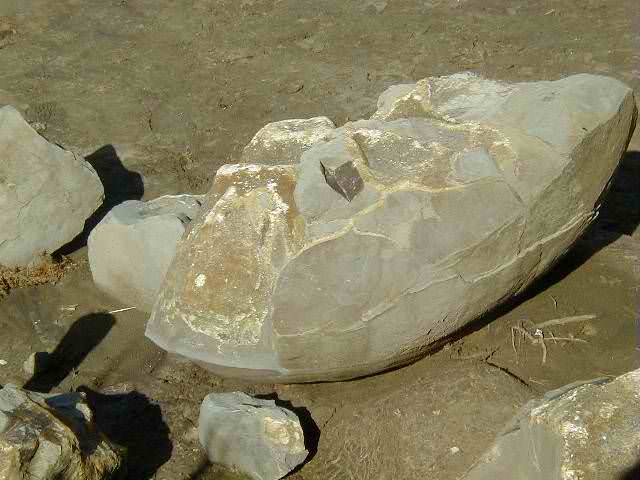 Golden calcite crystals, from the core of the Moeraki concretions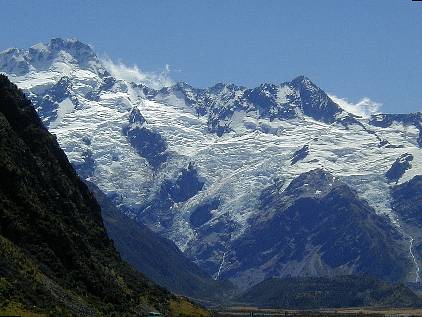 On to the Alps
BACK | NEXT | New Zealand Pictures | Site Index | South Island Map | contact us <!-2008 version of four Ad banner->
---
---
Please enjoy browsing our pictures of the South Island of New Zealand
See here for our terms of use. Copyright© JustOurPictures.com. All rights reserved.