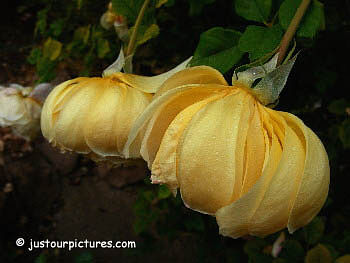 Aged Blooms of Golden Celebration at Dusk.File#File# N0187 &nbsp
Two aged but still lovely blooms of Golden Celebration pictured in the low light of dusk. The purists might argue that I shouldn't post this shot here as the colour is wrong. I call it artistic license.

Colour accuracy is such a difficult thing to nail on the web. There are so many differences in the way cameras record colour. Different browsers, different monitors, different calibratons all add up to an inexact science. And then there's the differences in the colour of blooms because of the heat of the sun or lack of it, or the fading that occurs in some roses as they age. Or perhaps even the inaccuracies of colour perception of the photographer as they try to adjust colour with Photoshop or the like.

We're working toward being close and where we are clearly not, saying so. That's the objective.