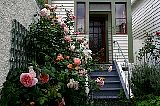 Abraham Darby rose bush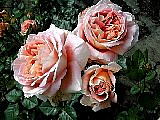 Abraham Darby
Multi pics and comment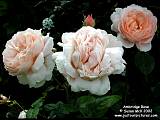 Ambridge Rose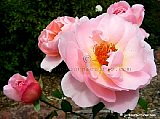 Belle Story
with comment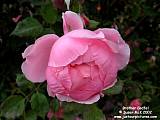 Brother Cadfel

David Austin crosses old roses with repeat flowering modern roses with often stunning results. Like many before me I was transfixed at the first English rose I saw, Abraham Darby. How was such beauty possible - cupped pastel blooms, stuffed with impossibly fine crumpled silk. Words don't do these roses justice. Check out these pictures, but seek out the real thing.

The key to growing English roses well, is to watch for which are performing in your neighbourhood. With so many traits in this gene pool there are no guarantees. If you've been disappointed, try some of the newer varieties as David Austin continues to improve his stock and works at breeding out undesirable characteristics such as disease susceptibility and legginess.

Christine has had particular success with a number of David Austin roses in Reno NV. Stand outs for her include Evelyn, Othello, Teasing Georgia, Graham Thomas.
FEATURED DAVID AUSTIN ROSE - OTHELLO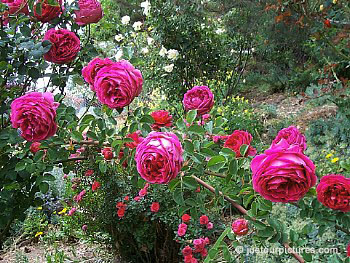 Othello blooms File_#F1119

Many varied views along with a discussion of the merits and armoury of this 'wonderful' rose.
MORE ENGLISH ROSES.
The images below are of the other English roses we currently have in our database. ( These pictures are not clickable thumbnails)
As well as these, we have several alternative pictures to those shown on this page, and many bush shots. Please ask.