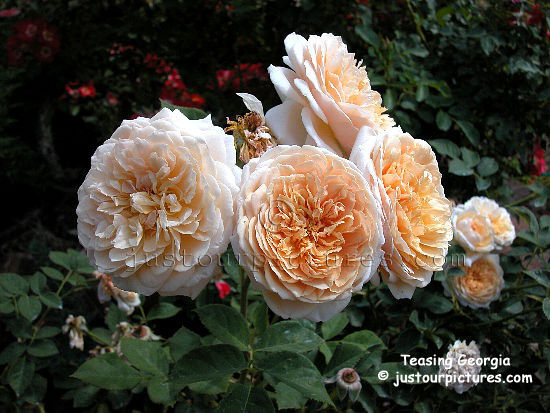 Teasing Georgia.File#d3767; Photographer: Christine. Comment from Christine - Reno NV. Zone 6a/b

Teasing Georgia has several qualities which I especially love. The color is a wonderfully rich, saturated apricot-yellow which draws me in time after time. I have it planted in a very visible spot adjacent to the driveway. Every time I step out of the front door, I see this rose in the distance. And when it is in bloom, I cannot help but walk over to it, to view it more closely. It doesn't seem to matter that I just did this a half hour before, I will do it again, throughout the day, every day. Most of the roses planted in this area attract my eye, but this one attracts my heart.
<!-LINK UNIT 160->

<!-125 by 125 button->

<!-LINK UNIT 160->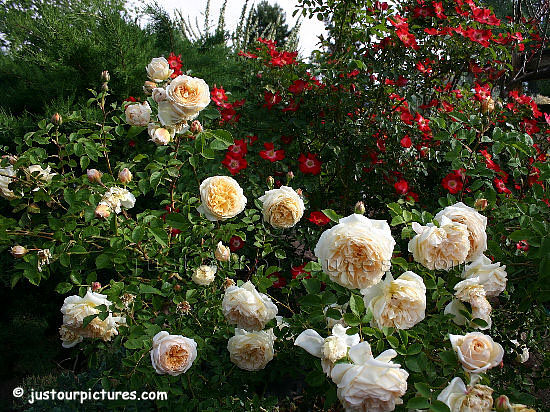 Teasing Georgia rose bush with Eyepaint; File#img0345

The season when Teasing Georgia was first planted, it bloomed fairly well. The second season was pretty much a bust and the third not a lot better. By then I was concerned that I had wasted a very important and visible site on a rose which did not deserve it. Time and maturity have changed all that. It has now been in the ground nearly six years and is a beautiful, arching plant which - as spring turns to early summer - is massively loaded with buds.